Menominee Fish Passage Project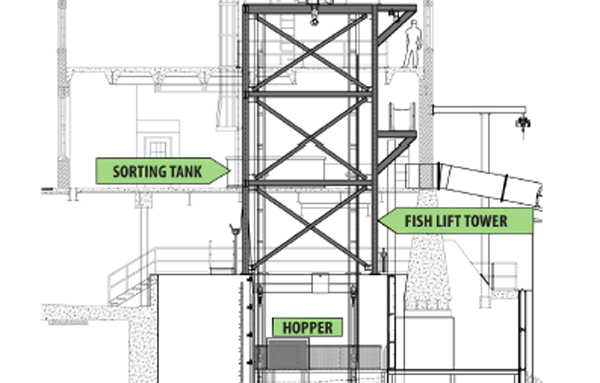 Design of first fish lift for lake sturgeon in United States
The Menominee Project consists of the Menominee and Park Mill Dams that are the first two dams on the Menominee River blocking lake sturgeon access from Green Bay to their historic spawning grounds. Lake sturgeon has become a species of concern in the Great Lakes area as a result of the decreasing population. The Menominee River offers more spawning and rearing habitat per dam passed than any other tributary to Lake Michigan. It is estimated that about 45% of the existing sturgeon in Lake Michigan spawn in the Menominee River, making it ideal for habitat restoration.
Kleinschmidt provided conceptual and final design for a fish lift and sorting facility located at the Menominee powerhouse. During the conceptual design process, Kleinschmidt worked with the hydro owner and resource agencies to develop design criteria and determine the most effective location and layout of the fish lift and ancillary equipment. To reduce construction costs, Kleinschmidt proposed to locate the fish lift inside one of the unused turbine bays, thus eliminating the need for temporary cofferdam structures in the tailrace. Kleinschmidt also designed the fish lift to eliminate excavation, thus reducing construction costs and alleviating concerns with the foundation of the existing powerhouse. The fish lift system consists of a concrete entrance channel that allows fish to swim into a collection area. Once fish are inside the collection area, a trapping screen is lowered and a steel hopper is raised. The fish are then discharged from the hopper into a sorting tank that is located on the first floor of the powerhouse. Here the fish are sorted and any undesired species are returned downstream, while the lake surgeon are transferred to one of two holding tanks to await transportation upstream of both the Menominee and nearby Park Mill dams via a truck pulling a trailer mounted tank. Construction of this first fish lift for lake sturgeon in the country was completed in the Spring of 2015.
The lift has proven successful in passing the targeted number of fish in less than a week during the spring migration. The project was completed for less than half the cost of other methods that have been used to pass fish since the design eliminated the need for excavation and cofferdams. Additionally, the design and construct sequencing avoided disruption to hydropower generation.